HISTORY OF BAVARIAN FOLK COSTUMES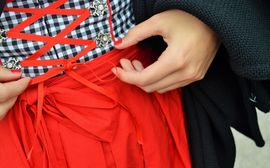 But where does this costume traditionally worn at all kinds of folk festivals and fairs actually come from?
The costume's origins go all the way back to 1626, from the time of Bavarian Prince-Elector Maximilian I, who established a dress code based on people's rank in society. He set out guidelines for the cut of the cloth, as well as prices and materials, so that each social class would be clearly marked by their garments. The dress code divided society into seven groups: common peasants, common townspeople, merchants, traders, minor aristocracy, knights and lords, although peasants and common townspeople did not have any special garments to mark their status. In 1644, Maximilian instructed the courts in Bavaria to enforce the dress code. And thus a regional dress style began to develop, based on status and profession.
Over the course of the 18th century, interest in the differentiated dress code steadily declined and the status-related symbolism of the garments become less and less important. Peasants could now choose what to wear based on taste and cost alone.
In 1886, Prince-Regent Luitpold assumed power in Bavaria. Luitpold deeply treasured the Bavarian folk costume. What most people refer to as Bavarian folk costume (Tracht) is actually the costume of those living in the Upper Bavarian mountains. This costume includes lederhosen for men and dirndl dresses for women. Prince-Regent Luitpold himself wore this costume to all kinds of public and private occasions. Following his lead, the older regional costumes were replaced by this updated "Miesbacher Gebirgstracht" which by the turn of the century was worn throughout Bavaria. Today, there are six different types of mountain folk costumes in common use: the Miesbacher, Werdenfelser, Inntaler, Chiemgauer, Berchtesgadener and Isarwinkler.
Are you also looking for a nice costume such as a stylish and chic update on the traditional dirndl or a fine pair of lederhosen?
If so, Indra's Dirndl-Ecke in the heart of Munich's old town has just what you're looking for! In this traditional, lovingly decorated shop, you will find the right dirndl, lederhosen and other fine accessories.
The Indra family has been crafting bespoke folk costumes next to the Platzl Hotel München since 1951. Tradition, quality and individual consultation are key to the Indra's business, as their many regular and prominent customers would agree.

Many people from Munich and around the world will have their costumes for the 180th Oktoberfest made by shop-owner Bobby Gebler-Indra. Besides dirndls, lederhosen and other costumes, the shop also offers all sorts of beautiful souvenirs such as hats, gold and silver jewellery and even teddy bears dressed in costume.
Come by and let Indra's help you get ready before the Oktoberfest rush.