The new banqueting rooms at Platzl Hotel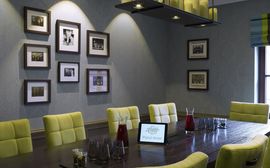 Top quality products used, not just with the floors and walls
After three weeks the tradesmen had already replaced the lion's share of the floors and walls. The Müller-Pfister-Stube and the Karl-Valentin-Stube were given rustic beech or oak wooden floors and the walls were panelled with pine or Swiss stone pine wood. The whole thing was perfectly finished with loden cloth and excellent quality cottons. Swiss stone pine also played an important part in the Bäcker-Stube room, where it was used to clad the barrel vault which gives the room its outstanding acoustics. The movable partition wall in the Müller-Pfister-Stube ensures even greater flexibility for your conference in Munich.
Feel-good atmosphere for your conference in Munich
If you feel good at a conference you're also more receptive. For this reason, it was particularly important to those in charge at the Platzl Hotel Munich to use excellent quality woods and fabrics to give the rooms a stylish yet cosy touch. We have also equipped the rooms with state-of-the-art technology to meet our modern standards: a built-in projector, "Bose" surround system and LED lights for better brightness and less energy consumption are all the best conditions for your conference in Munich.
Famous photographer Matteo Manduzio puts the banqueting rooms under the spot light
To attractively present the results of the successful renovation work we commissioned a photographer, who masters his craft to perfection, to take shots of the banqueting rooms. We asked the photographer for a quick interview to briefly introduce you to Mr Manduzio and his work.

Where do you originally come from and how did you end up in Munich?
Mr Manduzio: I was born in San Severo, a small town in Apulia. After quitting my architecture course in Florence I came to Munich in 1973, where I opened my photo studio a few years later after a few trips around Europe.

How long have you been working as a professional photographer and what inspires you in your work?
Mr Manduzio: I came into contact with various publishing houses and journalists in Munich and as a young photographer I had the opportunity of photographing houses and apartments all over the world. To start with, for example, there was Gunter Sachs' house in Nice or the Hotel Bühlerhöhe in Baden Baden. In my photography I'm inspired by the geometry of spaces, by materials, colours, objects, shapes and moods (smells, noises, light). I choose my detail from this 360 degree perspective and compile parts of the whole thing into a new composition. The light is the finishing touch that makes everything shine in a better quality and more style.

What were your biggest and most famous projects?
Mr Manduzio: I became well-known due to my staged photos for magazines like Ambiente, Elle Decoration, Harpers Bazar, Casa, Interni and Architektur & Wohnen. Interior design companies noticed me thanks to this work and I have photographed style books for Lambert, Zimmer & Rohde, Schramm, etc. and the book "Augenschmaus" for Calway Verlag publishers.

What was the photo shoot at the Platzl hotel like? Were there any specific challenges?
Mr Manduzio: The biggest challenge is always not disturbing the hotel business and guests. This requires great organisational skills, which the Platzl team mastered superbly. That's why I'd like to thank Heiko Buchta, Stefanie Brinkmann, Simon Westermair and all the many lovely people who I don't personally know by name but who really helped us. I'd also like to thank my assistant and photographer Michael Donath of course.