Parents' evening - with a difference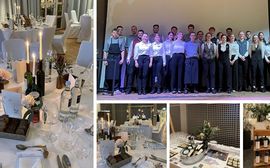 The preparation
Unlike the usual parents' evening, the organization and planning was completely taken over by our trainees and students. The established Platzl employees stayed completely out of it and left the young talents in charge. They took care of the invitations, the social program, the purchase and preparation of the food, as well as the room decoration and the service - all within a certain budget.
The theme: "Wine & Water
The junior staff were also allowed to decide on the theme of the parents' evening, and the choice fell on "Wine & Water" - based on the concept of our fine dining restaurant PFISTERMÜHLE. Accordingly, a wine tasting was planned in addition to a 3-course menu. And so that the selected drops could be fully enjoyed, the parents were even accommodated in the hotels.
The evening
As expected, the evening was a complete success. The 3-course menu with chanterelle cream soup, deer deux and a baked apple tiramisu was highly praised by the parents. Also the wine tasting with products of three winegrowers found large approval. In general, thanks to the smooth running of the event, there was a lot of pride written on the faces of the parents.
The follow-up
The focus of the parents' evening was, of course, independent project management and the assumption of responsibility. It was good practice for future management tasks; the young people were able to demonstrate that they can not only work through tasks, but also delegate them. In the upcoming trainee meeting, there will be a detailed discussion with all participants, where the experienced employees will have valuable tips ready for our young talents.