Our Restaurant Manager at Ayingers Inn Lukas Loos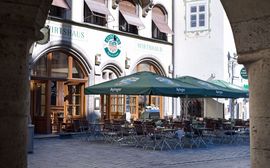 Dear Mr. Loos, thank you for taking the time to talk to us today. What took you from the idyllic region of Styria in Austria all the way to downtown Munich?
I left Styria to pursue my career goals quite a long time ago. After completing my studies at Bad Gleichenberg School for Tourism, I spent two years in Lech am Arlberg followed by two years in Hamburg. It was our F&B Manager, Mr. Schöttle, who offered me the chance to work in Munich. I was very pleased to accept his offer and I am very happy in Munich. Of course, the fact that Styria – and my family – are nearby, is also a plus point.
You are young, motivated and full of great ideas. What can the guests at the Ayingers Inn expect from you over the months to come?
I will not be making any sweeping changes because the system here and the team are already very good. I am going to start by looking at the processes before gradually making some small adaptations. My goal is to ensure that the guests enjoy a consistent, high quality experience.
This year, the purity law is celebrating its 500th anniversary. We have heard that traditional tapping of the beer keg is going to take place every day at the Ayingers Inn. What, exactly, is this ceremony all about?
The tapping of the beer keg is something that has been happening here for over 10 years - we tap a new beer keg every weekday at 5 p.m. and on weekends at 12 noon. One of the service team opens a brand new keg of the famous Ayinger century beer to the celebratory sounding of a bell. A half-liter glass costs € 4.60 by the way!
A special beer menu and a special sandwich spread is on offer to coincide with the anniversary. What delicatessen has the Ayingers kitchen prepared for the guests?
From July 18th until 31st, we will be offering a 3 course menu with corresponding beers. On the day of the 500-year anniversary we will serve our guests a 500-year platter of traditional Bavarian snacks and a tasting of 5 varieties of beers from the Ayinger brewery. Highly recommended: Our new beer jelly!
You have some great extra qualifications. You are a young cheese connoisseur, for example. What is your favorite cheese?
Yes, that is true. As part of my studies at the School of Tourism in Bad Gleichenberg I not only trained to be a cheese connoisseur, I also trained to be a young wine waiter and concierge. My favorite variety of cheese are the blue cheeses, and it is important for me that they are mature.
Before you joined the Platzl, you were Deputy Restaurant Manager at a leading 5-star hotel in Hamburg, the Süllberg. Did you experience any culture shock moving all the way from Austria to the far north of Germany - and what was it like to work side-by-side with the 2-star chef (Michelin guide) Karlheinz Hauser?
No, I did not experience any culture shock because I had already completed my apprenticeship on Sylt. I got to know and like the northern part of Germany at that time. Karlheinz Hauser had confidence in me and gave me the chance to work in several different areas. In catering, at banquet events and in the 2-star gourmet restaurant. I also worked on the reconfiguration of the wine list. I also had a bit of my homeland with me in the northern part of Germany, because in the wintertime at the Süllberg they set up an Alpine-style lodge - which I got to manage. Getting to work with Karlheinz Hauser was a huge honor for me. His high standards and keen attention to detail have helped to take me a long way in terms of my own personal development.