Our new beer based body care products by LaBottega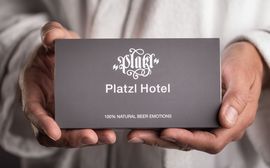 2015 is a year full of new happenings for the Platzl Hotel Munich: While the new website has been launched, the renovations are in their final steps ... But there is more: Guests staying at the Platzl Hotel Munich will soon be enjoying high-quality body care products. Standardized mass production? No way! This is the reason why we teamed up with LaBottega in order to create products representing the unique style of the Platzl Hotel Munich. What is so special about this? In the manufacturing process of these products, the home made beer produced in our family's brewery is used. Find out more about this later in the article.
LaBottega – Excellence from Italy
The LaBottega dell'Albergo incorporated is one of the world's most renowned players in terms of hotel accouterment. The focus is always on strenghtening the character and identity of the hotel. The products are especially designed in order to fit the charming flair of the house and not the other way around. The individual and embracing service is just as important as the high quality of those products. So it's no surprise that some of the best and most highly recommended hotels in the world rely on LaBottega. Examples include the Baur au Lac in Zurich, the Le Royal Monceau in Paris and the Hay-Adams in Washington D.C.. LaBottega cosmetics will soon be available at the Platzl Hotel in the heart of Munich's historic city center.
"House of Beauty"
Along with the changes implemented in the Platzl Hotel Munich, the demand for care products which convey a characteristically Platzl touch increased as well. Therefore, our long established hotel in Munich approached LaBottega's cosmetic experts in the so called "House of Beauty".
This is the "alchemical center" of the company. The House of Beauty links its own standards in terms of sustainability and dermatological safety to the sophisticated requirements of the customers. This requires continuous and meticulous researching forming the ideal foundation for creativity of which the guests of the Platzl will benefit.
New beer based body care products at the Platzl
The newly developed beauty line including shampoo, shower gel, lotion, conditioner and liquid soap based on beer can be found in all Platzl bathrooms. A unique fragrance and skin care experience for discerning guests! Of course not just any beer was used but regional quality beer from the family-run private Ayinger brewery. Just add the modern Platzl design and the result is a unique sensory experience. Anyone that would like to experience this on their own skin is welcome to visit us at Platzl Hotel Munich. Pictures will soon be available on our Facebook page.