"DULT IS A CULT" – AUER MAIDULT ON MARIAHILFPLATZ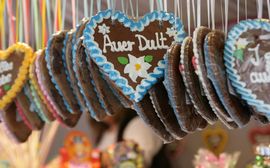 Connected to the original meaning of the name "Tult" or "Dult", in honor of a saint, stands were erected around the church and goods were sold. Traders came from the surrounding areas and sold scarves, furs, leather goods, as well as gold and silver jewellery.
Over time, this festival developed and became a traditional fair, an increasingly popular event among the population. As early as 1796, the suburb of Au was granted the right to hold this event twice a year and the name "Auer Dult" was coined. In 1905, it was decided to hold it three times a year on Mariahilfplatz. First, Maidult at the end of April followed by Jakobidult in July and finally, Kirchweihdult in October, all of them lasting nine days. Its initial trading character, whereby merchants sold crafts of all kinds, has gradually developed into a pleasant and popular folk festival.
To date, approximately 300 merchants and showmen offer various goods and pleasures, including nostalgic attractions like the Ferris wheel with the well-known concert organ, the steam-carousel, or the "Puppet of the Au", which opens his theatre for the whole family.
Equally interesting are the Geschirrmarkt (tableware market), the Tendlerbereich (second-hand market) and the Neuheitengasse (literally, street of novelties). The Geschirrmarkt offers porcelain, tableware items, and pottery and pots of all sorts. Its endless lines of stands make it probably one of the largest of its kind in Europe. The Tendlerbereich of Auer Dult is a haven for second-hand enthusiasts but also a valuable resource for collectors. It's always "Showtime" on Neuheitengasse! The seller will present novelties and well-tried household products, describing their operation while putting on a good show.
Moreover, Maildult will host the 200 anniversary of the Biergarten, the perfect setting to enjoy a Bavarian Brotzeit (snack) and a cool beer. On the menu, you will surely find numerous savoury dishes including sausages, roast chicken or grilled mackerel. Now, how about a perfect dessert course? Choose amongst cotton candy, roasted almonds, chocolate fruit, and much more to round off your culinary visit to the Biergarten.
Maidult is held from April 28th to May 6th, 2012. Opens every day from 10:00 to 20:00. The best way to reach Mariahilfplatz is by taking bus No. 52 directly from Marienplatz – it is just a 10-minute ride!