CAKES IN THE AFTERNOON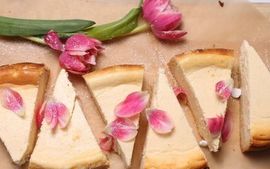 Pear Chocolate Tart Recipe
For the base:
120g flour type 405
2 tablespoons sugar
120g butter (room temperature)
1 egg yolk
juice of a quarter lemon
a pinch of salt
Combine all ingredients into a homogeneous dough mix, let it rest for 30 min, roll out the dough and place it in a buttered tart tin. Cut off any excess dough and refrigerate until the filling is ready.
For the filling:
120g dark chocolate
120ml fresh cream
1 whole egg
1 egg yolk
3 tablespoons sugar
a little bitter almond extract
pear halves boiled in white wine, sugar and lemon juice until soft
Briefly mix the cream, sugar, eggs and bitter almond extract. Remove the tart tin from the refrigerator and cover with the dark chocolate. Then distribute the pears on top and finally pour the cream-egg mixture carefully over it. Put it in the oven at 165 °C for 45 min.
We at the Platzl Hotel wish you Bon Appetit :-)!