A Culinary 24 Hours Around the Platzl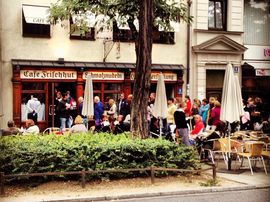 But the gastronomic offer of the Platzl surroundings is not exhausted yet, not by a long shot. Diverse culinary indulgence is waiting for you around the Platzl and, as it is easy to quickly lose oversight when faced with so many options, we have drummed up some support: Claudia Berges from EssKulTour knows what a culinary 24 hours around the Platzl can look like. She has put together a tour which fills a day with secret tips, delicacies, and special treats.
Enjoyment at the Platzl from Morning until Noon
The day begins with a Schmalznudel [a donut-like deep-fried pastry] from Café Frischhut at the Viktualienmarkt, a specialty which is known far beyond the city walls. The café is an institution, and their baked goods so delicious that Café Frischhut is often just referred to as "The Schmalznudel".
Subsequently and, of course, before the 12 o'clock bells, a Weißwurst-Frühstück [veal sausage breakfast] beckons in one of Munich's traditional inns, such as the Augustiner am Platzl, for example.
As of (the after)noon, things get more Italian. In "the most northern city of Italy", you can find la dolce vita and architectural treasures en masse – for example, did you know that the Feldherrenhalle and the Siegestor are based on Italian models? A short walk through the old town can be perfectly rounded off with an aperitif and a light lunch in Brenner's on Maximilianstraße. If, after that, you have still got some room to spare, you can take a stroll through the Eataly in the Schrannenhalle and enjoy some antipasti.
Afternoon Beers and Evening Enjoyment
When it comes to alcohol, there is an old saying that goes: "It is five o'clock somewhere!" In Bavaria, the locals enjoy taking advantage of this fact. This is why, of course, your culinary tour through Munich must make a stop at the Alter Hof. This is where the first Hofbräuhaus was built in 1579, which later moved to its current location at the Platzl due to lack of space. Observe the bright hustle and bustle of the local watering hole, maybe visit the considerably quieter restaurant on the first floor, and marvel at the barrel vaulting of the large banquet hall. When the sun shines, it is time to hit the Biergarten with its hearty brass music and crispy giant pretzels. A Munich experience just like in the picture books!
As the evening beckons, training and taste are combined. Incorporated within a three-course menu with little challenges, the entertaining "manners trainer" demonstrates how you can do everything wrong, or sometimes even right, when it comes to formal events, business dinners, standing receptions or private invitations.
If you would prefer to get to know the city and your colleagues or customers, then there is also the option of an evening tour for the most exciting culinary points of the old town. A "Spatzl" in the Platzl Karree Boden & Bar is just the thing to put you in the mood – but how your menu develops from there depends either on your preferred cuisine or on the motto – should it be classically Bavarian, Asian, or Italian? On the way, you can receive little bites of info from the tour guide, who is also happy to provide you with tips on how you can subsequently turn night into day. Until it is time for some more Schmalznudeln. ;)
Enjoyment Around the Platzl – Create Your Own, Individual Tour
Have we inspired you to establish your own culinary tour? We regularly let ourselves be inspired by EssKulTour, and are glad to arrange contact regarding your individual city tour from 8 people. Simply write us an email at verkauf(at)platzl.de and experience hours of good taste around the Platzl!
EssKulTour is the specialist agency for culinary tours and experiences in Munich. The specific "EssKulTouren" (city tours) which follow a particular theme e.g. beer (BierKulTour), salt (SalzKulTour) or Italy (GustoKulTour) are normally carried out by the EssKulTour team for small and large groups, but there are also a few things to discover by yourself around the Platzl Hotel in particular.
Picture Source: https://www.flickr.com/photos/kudwien/8132739085/in/photolist-U1wscz-doEpZp