The "Fairy Tale King" - A Platzl Thriller!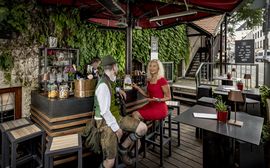 On the trail of Tom Perlinger
Do you love it when the excitement of reading makes the hairs on the back of your neck stand up? Then the new crime novel by author Sabine Vöhringer is a real literary "treat" for you. Because chief inspector Tom Perlinger is also concerned with enjoyment - he now lives in the Platzl Hotel and finds a taste for our good cuisine in the Wirtshaus Ayinger am Platzl and in the Restaurant Pfistermühle. And that's exactly where the plot begins.
Pure thrills in the middle of Munich's old town
"In the vaulted cellar of the Pfistermühle am Platzl in the middle of Munich's old town, it was quiet as a mouse, even though more than 100 people were seated at the tables. The first course of the menu, whose aroma was still in the air, was just being served. Smoked pumpkin cream soup with pickled mackerel, orange and pumpkin seed oil. Chief Inspector Tom Perlinger sat at the front table, waiting anxiously ... In the last few months, his life in Munich had changed fundamentally, and this was just the beginning, because soon nothing would be the same."
Of power, murders and myths
Why is Louis von Schönfeld, called the "fairy tale king," floating dead in the Köglmühlbach? Why is the body of his psychiatrist Siegmund Berg found a few meters away, in front of the Japanese Tea House in the English Garden? Tom Perlinger is faced with a seemingly unsolvable mystery. What is behind it? A personal drama? Soon the mysterious murders lead the headstrong investigator to the mysterious demise of the fairy-tale king from the past, King Ludwig II. Then as now, personal power games are the fairy-tale king's undoing.
Culinary readings
You can experience the pure thrill of the "fairy tale king" up close and live from 6:30 pm. At the Platzl Hotel, the Pfistermühle and the Wirtshaus Ayinger am Platzl, join us on a discovery tour of the original locations of the new Munich thriller. During a culinary reading with the author Sabine Vöhringer including a guided tour to the locations of the novel events, you will feel pure suspense. Accompanied by culinary delicacies from the Platzl kitchens, the reading will be a pure pleasure.
You can find out more about author Sabine Vöhringer and her crime novel "Der Märchenkönig" on her official website. The Platzl crime novel is available in our online store.