The best wine bars in Munich for the summer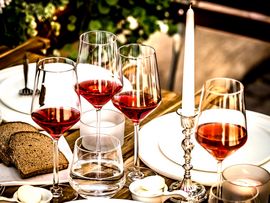 The right wine bar for every taste
Munich is no longer just a 'beer town' - numerous appealing wine bars populate the gastronomic landscape of the City. And the selection could hardly be more varied. Get to know the viticultural Munich surrounding the Platzl.
Just two minutes from the PLATZL HOTEL is the Grapes Weinbar with rare bottled treasures. Tasty treats made of regional ingredients (from Tapas to Focaccia to beef tatar) are served with the wine in a relaxed atmosphere. Have a wonderful end to a balmy summer evening in the courtyard.
"Eat and drink like God in France" – at Déjà bu? the motto is standard: The French wine bar impresses with a charming bistro atmosphere. Here you can enjoy select wines and alternating sausage and cheese specialties.
With the hoiz Weinbistro, wine experts Bastian Hartwig and master chef Christoph Friedrich have opened a small gastronomic pearl, not far from the Viktualienmarkt. They are both always on the lookout for viticultural tips and delightful creations.
The restaurant Alter Hof with its popular wine bar is one of the most traditional bars in Munich's old town. Nowhere in the Bavarian regional capital will you find a larger selection of Franconian wines and dishes. The wine tastes particularly good in the idyllic garden.
Exquisite wines also available at the Platzl Hotel
Why go far away... are you at the Platzl Hotel and spontaneously want to round off the evening with a good glass of wine? At the Platzl Karree Boden & Bar or our Restaurant Pfistermühle, we serve you a range of nice wines, with select ones from wine growers that we know, in a relaxed, open air atmosphere. Add our Karree-Brettl for an all-around pleasant and tasty evening!