Munich's Christmas Markets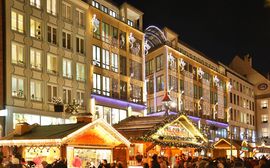 ... and Munich will once again be under the charming magical spell of Advent soon. Lively lanes, festively lit buildings, gentle Christmas music... and added to this are the fragrant compositions of citrus fruits, roasted almonds and cinnamon in the air. You can only experience this kind of atmosphere during this peaceful time of the year. In our magazine we would like to get you in the mood for this by presenting three of Munich's most beautiful Christmas markets to you before we finally tell you a bit more about the gourmet breakfast at the Platzl.
The "Christkindlmarkt" on Marienplatz
The "Christkindlmarkt" on Marienplatz is undoubtedly one of the most popular Christmas markets in Munich, if not in the whole of Germany. In front of the majestic town hall, surrounded by magically lit-up building facades, there is everything your heart could desire here before Christmas: a gigantic Christmas tree with roughly 4,000 candles, mulled wine stands, arts and crafts, Advent concerts, magical lights and and and... On top of this there are exciting baking and craft-making opportunities for young visitors.
From 2015.11.27 to 2015.12.24, every day from 10.00 a.m. to 9.00 p.m. on Marienplatz
Advent Spectacle and Medieval Market
There are a whole load of Christmas markets in Munich, however, when you visit the Advent spectacle on Wittelsbacher Platz, you travel back in time through the centuries. Go back to the original times of Christmas markets, experience brave knights, graceful maidens and wistful minstrels, drink "Buried Fire" and enjoy the deliciously prepared hog roast. Jugglers and magicians provide the entertainment… And you may even find your next Christmas present for your loved one at the goldsmith and lantern maker stalls.
From 2015.11.25 to 2015.12.23, every day from 11.00 a.m. to 8.00 p.m. on Wittelsbacher Platz
Tollwood Winter Festival
The most alternative of all the Christmas markets in Munich must surely be the Tollwood Winter Festival. International treats, inter-cultural exchange and creative arts and crafts await you on the Theresienwiese, therefore the same place where the Oktoberfest takes place a few weeks beforehand. But that's not everything by far: It's the artistic performances and many concerts in particular that attract many people to the Winter-Tollwood.
From 2015.11.24 to 2015.12.31, Monday to Friday 2.00 p.m. to 1.00 a.m. and Sat/Sun 11.00 a.m. to 9.00 a.m. on the Theresienwiese
Gourmet breakfast
We have also come up with something very special in terms of dining for Advent. Pop into our Platzl Stube every Advent Sunday and on Christmas Day and Boxing Day. Experience a sumptuous buffet with Bavarian delicacies with a modern twist at our longer gourmet breakfast until 2.00 p.m.
Price: € 35.00 per person (for in house guests upcharge of only € 15.00 per person) incl. hot drinks, juices, sparking wine and beer
Fotoquelle: ©EinfachMünchen / Tommy Lösch