Just a day like any other?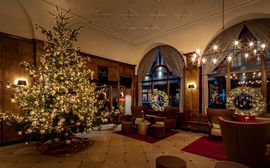 How the Platzl talents experience Christmas & New Year's Eve
Christmas is getting closer and closer and as you can imagine, hospitality employees perceive the holidays a little differently. While most people are relaxing with family, a large number of restaurant or hotel staff experience some of the busiest days of the year. We asked a few of our Platzl talents how they experience being on duty on Christmas and New Year's Eve. Here are their answers:
How do the holidays between Christmas and New Year's differ from "normal" working days?
Jakub (Demichef de Partie, Pfistermühle): In the kitchen, I actually perceive the holidays as ordinary working days, only the dishes are slightly different. For example, our casserole duck is only available during the Christmas season.
Dirk (Chef de Rang, Ayinger am Platzl): It's similar for the service. We serve slightly different wines along with the hearty dishes, and because of the Christmas parties, we tend to welcome larger groups of guests than usual.
Markus (Chef de Rang, Pfistermühle): Two colleagues and I cherish a small tradition. On the holidays, we wear a Christmas T-shirt from the Grinch. A nice joke - especially because the guests obviously look a bit surprised at first.
Elias (Guest Service, Front Office): I have to say that the Christmas decorations in the lobby put me in a festive mood. Guests are also more relaxed, because they are in town to celebrate and take a vacation rather than for business. I have the impression that - uplifted by the special atmosphere - we also greet guests more warmly than we already do.

Does the festive mood also have an effect on the rest of you who don't work at the reception desk?

Lara (Hostess, Ayinger am Platzl): On Christmas it's limited for me, but on New Year's Eve there's usually a great celebration mood in the team.
Daniel (Bartender, Ayinger im Platzl): Quite a bit. Especially the relaxed mood of many guests is transmitted to the employees. Although there's a lot going on, it doesn't necessarily feel more stressful.
Jakub: It all depends on how busy it is. In the middle of our evening business, of course, no one thinks about it. However, as the end of the day approaches, the Christmas feeling comes through. You exchange holiday wishes and maybe have a glass of mulled wine together.

Do you celebrate as a team when you work between the holidays?
Lara: I've played secret Santa in the team around Christmas before, or a colleagues have brought in some cake for everyone to share. That made work even more fun.
Daniel: There's not much time to celebrate when you're on duty, but after work we go out for a drink with your colleagues.
Markus: And because those with families are usually out of work by then, we like to toast to the successful work on the holiday as soon as the toughest part is over.

What is it like for you to work on Christmas?
Jakub: As a family person, I would of course prefer to celebrate at home, but luckily we are very close friends at the Pfistermühle. That makes working over Christmas and New Year's Eve a lot easier - the team is like a second family and we nevertheless have a good time.
Daniel: It's not a problem for me because I don't celebrate Christmas in a big way anyway. I'm happy to let my colleagues who have families go in first place.
Elias: In recent years, I've enjoyed the privilege of not having to work in the evenings over Christmas. In general, we are very fortunate here at the PLATZL hotel to work in a very collegial team, so that employees with children tend to have time off over the holidays.
Dirk: Usually we try to make it possible even for employees without children to take at least one of the Christmas days off.

Thank you very much, dear team!
After the last few years were "slightly different" due to the pandemic, we are excited to see what this Christmas season will have to offer. In any case, we have some treats planned for our Platzl talents. If guests are eating a little more festively, why not add a Christmas touch to staff meals over the holidays?
Also, the fact that we all meet in the courtyard shortly after midnight on New Year's Eve for a glass of sparkling wine is a tradition we're sure to continue.
Until then, we wish everyone in the team a successful holiday season, Merry Christmas and a Happy New Year!